Put a swing in your step and get inspired from the 1920's 30's 40's and 50's!
Yuval and Jul teach around the world, and now you can get their knowledge and expertise here in South Florida! No one else in Florida comes close to teaching, dancing, and having the knowledge of all the different styles that make up swing: lindy hop, charleston, balboa, fast lindy, 6-count vs 8-count moves, and aerials (dance acrobatics).
Known for his award-winning performances and high-flying acrobatics, Yuval Hod is world-renowned for being able to break down complex movements and teach his students, precise technique. This has helped him coach beginner-level dancers into national champions. So whether you're looking to compete or just be a bada** dancer — or just get the right basic foundation, don't miss this session with All Swing Miami!
---
Sign up now for the Aerials Workshop!
— Digital Gift Cards available —
Learn a swing dance "air-steps" from the aerials master Yuval Hod!
When: Sunday, June 14 from 1pm-3:30pm
Where: Florida Triple Threat All Stars
2290 SW 71st Ter, Fort Lauderdale, FL
Price: $40 single / $70 couple (save $5 each!)
It's highly encouraged to come with a partner (or two)! We will be working in a gymnasium that has a soft, bouncy floor for extra safety. Message us if you have questions or need a partner.
---
It's the last two weeks of class— don't miss it!
Schedule of Progressive Group Classes
at iDance Miami Studio
2699 Biscayne Blvd, Ste 4, Miami, FL
★ MONDAYS
Spring into Summer Session:
May 20 | May 27 | June 03 | June 10 | June 24 | July 01
7:30pm–8:30pm
Beginner Swing
— Level 1 —

8:30pm–9:30pm
20's Charleston
— Open to all levels —
★ TUESDAYS
Spring into Summer Session:
May 21 | May 28 | June 04 | June 11 | June 25 | July 02
7:00pm–8:00pm
Pre-Intermediate Swing (6 count)
— Level 2 —

8:00pm–9:00pm
Lindy Foundation ( 8 count)
— Level 2 —
9:00pm–10:00pm
Current session:
Vintage Jazz Steps
Learn the Mama's Stew & Shim Sham!
Next session:
30's-40's Charleston
— Level 2 & up —
★ WEDNESDAYS
Spring into Summer Session:
May 22 | May 29 | June 05 | June 12 | June 26 | July 03
7:00pm–8:00pm
Cool Moves & Variations
— Level 3 —
8:00pm–9:00pm
Intermediate Lindy Hop
— Level 3 —
9:00pm–10:00pm
Master Class
Mastering specific moves at a higher level
— Level 3+ —
UPDATED ALL SWING CLASS POLICY: You must register and pay for a single class or package deal before stepping into class— no exceptions! If you come in late and/or class is already is session, you must wait until Yuval or Juls leave the class and complete your registration. Avoid the wait— register online!

FAQs:
Is there parking available? Yes, there is a parking lot right after you drive by the studio. It's free to park for dance students.
What type of shoes & clothes should I wear? Comfortable clothes and flat shoes are the best for swing dance classes. Remember, you are practicing, not performing! For beyond-beginner students, adding dance socks (or just no-show "footsies" socks") over your shoes help for swivels, slides and beyond-the-basics moves.
---
Dance Socials & Events
---
Thursday, June 27th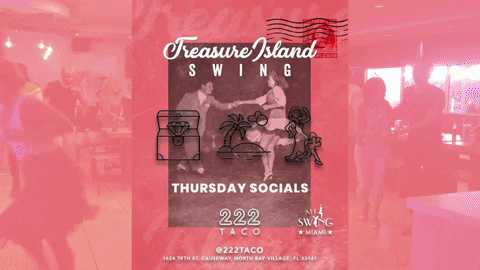 Treasure Island Swing
at 222 Taco
1624 79th Street Causeway
8:00pm-12:00am
Join us at our new swing dance social in Treasure Island! Besides another awesome place to dance, here's some great reasons to come:
🌮🍹Happy Hour menu ALL NIGHT LONG
💦 Free water
🎶 DJ booth playing some swingin' tunes
🕺💃 Room to dance
🚘 Lots of free parking
🤯 FREE entry!
---