from 3:00pm–6:00pm
at iDance Miami Studio
2699 Biscayne Blvd, Ste 4
Miami, FL
There will be a flash mob and several performances of the Shim Sham during Art Deco Weekend! Learn and/or review this historic dance in a three-hour workshop!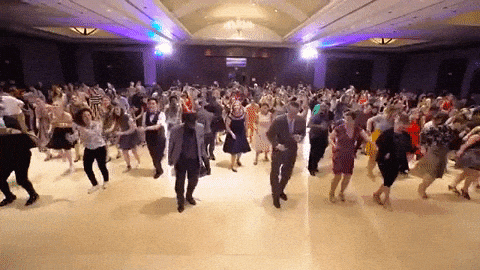 Shim Sham Workshop
Learn and review the Shim Sham with Yuval & Juls at iDance Miami
Shim Sham History:
In the late 1920s, when Leonard Reed and Willie Bryant were with the Whitman Sisters troupe on the T.O.B.A. circuit, they danced what they called "Goofus" to the tune Turkey in the Straw. The routine consisted of standard steps: eight bars each of the Double Shuffle, the Cross Over, Tack Annie (an up-and-back shuffle), and Falling Off a Log.
In early 1930s, the Shim Sham was performed on stage in Harlem at places like Connie's Inn, Dickie Wells's Shim Sham Club, the 101 Ranch, the LaFayette Theatre, and the Harlem Opera House.
At the end of many performances, all of the musicians, singers, and dancers would get together on stage and do one last routine: the Shim Sham Shimmy. Tap dancers would perform technical variations, while singers and musicians would shuffle along as they were able. For example, in 1931 flash dance act The Three Little Words would close their show at Connie's Inn with the Shim Sham, and invite everyone to join in, "and the whole club would join us, including the waiters. For awhile people were doing the Shim Sham up and down Seventh Avenue all night long," according to Joe Jones.
According to tap dancer Howard "Stretch" Johnson the word "Shim" was a contraction of the term "she-him", a reference to the fact that the female chorus line dancers at the 101 Ranch were played by men.
At the Savoy Ballroom, some lindy hoppers did the shim sham as a group line dance, without the taps. A bunch of dancers would just jump up and start doing the shim sham on the side of the ballroom, over in the corner. Although a few people might join in, most everybody else kept on dancing without paying any attention to it.
In the mid-1980s, Frankie Manning introduced the shim sham at New York Swing Dance Society dances, and he also created a special version of the shim sham for swing dancers. Frankie Manning's version of the shim sham really caught on, and it's now done at swing dances all over the world.
Source: Wikipedia
Frankie Manning photo credit: Ralph Gabriner
Frankie Manning & Chazz Young
Lindy Hop icon Frankie Manning and his son Chazz Young perform their variation of the Shim Sham, an early tap and later jazz-era line dance.